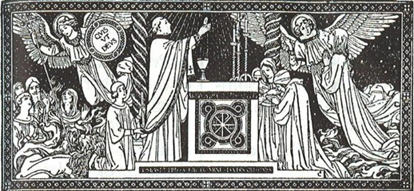 TODAY'S HOLY MASSES are offered for these intentions:
9:00 AM     For the people of the SKT-LMC Community (pro populo)

11:15 AM    For the people of the SKT-LMC Community (pro populo)

NEXT SUNDAY'S HOLY MASS INTENTIONS   (4/3/16):
9:00 AM    For the Priestly Ministry of Fr. Michael Copenhagen
(req. by the Anderson Family)
11:15 AM   For the Intentions of the Belokur Family
(req. by Jim Holden)
CANDLE INTENTIONS FOR WEEK OF 3/27
Tabernacle Lamp (Church)
In memory of grandmothers Magna Finsterwalder & Kathryn Jacobs
(req. by Kathleen Finsterwalder)
REQUEST AND SCHEDULE MASS INTENTIONS
To request and schedule intentions for both of our Masses, please call 585-484-1810 or email to [email protected]. to reserve a date. The stipend check of $10 per Mass should be made payable to SAINT KATERI Parish (not SKT-LMC). Please use the Mass Intention envelopes located on the bulletin table at all entrances to the Church. Drop your envelope in the collection basket or mail it our Parish Center address. (not to St. Kateri Parish) at SKT-LMC @St. Thomas the Apostle Church, 4536 St. Paul Blvd. Rochester, NY 14617
VOTIVE SANCTUARY CANDLES
SANCTUARY CANDLES burn in the Lady Chapel (in the Church), and the Adoration Chapel (in the Parish Center). Would you like to have a dedicated candle burn in memory of a loved one OR for a special intention? To schedule a dedicated candle intention call (585) 388-7734. Donations for 7 day Church Tabernacle and Adoration Chapel lamps are $10.00 Donations for the 3 day hanging lamps in the Lady Chapel are $5.00. Envelopes for candle donations are available at all church entrances. Checks should be made payable to SKT-LMC.
FINANCIAL INFORMATION
PALM SUNDAY
March 20, 2016
 9:00 AM   Attendance: 185  Offerings:  $2,035.19
11:15 AM   Attendance: 174  Offerings:  $1,883.31
--------------------------------------------------
           TOTAL       326             $ 3,918.50
           WEEKLY TARGET AMOUNT        $ 4,500.00
MARCH 20 DONATIONS FOR EASTER FLOWERS
 9:00 AM      $ 335.00
11:15 AM      $  82.15
----------------------
TOTAL         $ 417.15
THANK YOU for your generosity. Be generous also with your prayers for the SKT-LMC. May the Lord make of us a true Catholic fellowship of Easter FAITH, HOPE and CHARITY.
HOW TO CONTRIBUTE
Checks should be made payable to "St. Kateri Tekakwitha-Latin Mass Community" OR for short, "SKT-LMC". If you receive your envelopes by mail, please use them. If not, contributions can be placed in the blue envelopes OR loose in the collection baskets. You also have the option of ON-LINE GIVING.  Access to On-Line giving is available through our website skt-lmc.org or through a smartphone or tablet app. Instructions for giving are located on our website or in pamphlets available at all church entrances.
You may also sign up for automatic withdrawals with or without covering the small fee for transaction processing.
ENVELOPE MAILINGS FOR REGISTERED MEMBERS
If you have not received your envelopes for March/April by now, please contact Eileen Burke at 266-7287 or email to [email protected]. Enrollment deadline for the May/June envelopes has now closed. Next enrollment deadline for July/August envelopes is 5/15/16.

FAITH FORMATION
Our Faith Formation team is looking for volunteers in a variety of ways. Please email Andy at [email protected] if you are interested.
A Note from Your Coordinator
I'd like to take this opportunity on behalf of the teachers and aides in our Faith Formation Program to wish everyone in our Community a very Holy and Happy Easter! After having a conversation with a Community member just this past week, I couldn't help but take a step back and reflect upon our first year as a program, and our first year and a half as a Community housed at St Thomas the Apostle Church. We've established important elements that show the entire diocese that this initiative, authorized by Bishop Matano, CAN and IS working! Since our inception we have seen the following:
A Faith Formation Program was created from nothing. We learned and communicated diocesan requirements and continue to be in compliance with all regulations.
There were more than a dozen volunteers that stepped forward to teach in our initial call over the summer. That has left us with a small substitute list, four regular instructors, an aide, and three "immediate prep" teachers for sacraments.
We have begun plans to grow our program and called for volunteers to teach those classes or substitute in a current class. Our community came forward with a number of quality volunteers. The selection process for those classes will begin shortly.
Almost 50 children have been enrolled into our program. As the year progresses, that number continues to rise.
10 children have received their first Sacrament (First Penance) under our care. Out of those 10 are two that belong to a family that was away from the Church for several years. Since our Community was established here, that family has returned, and the children have begun to catch up on their Sacraments. Tutors were assigned to help fill in gaps. This note itself, in my estimation, is worth our very existence.
Community Life has grown with the creation of the Evangelization Committee and other volunteers who have stepped forward to put on events for families. Two of our teachers have put on these successful events. The Faith Formation Program hopes to continue aiding in the growth of our Community life, which we can all agree is essential not only to our existence, but to our growth and commitment to this initiative.
A Bible study has taken shape after the Latin Mass at the end of every month. While this isn't a branch of the Faith Formation Program, it's worth mentioning that our members continue to look for ways to deepen their Faith. I hope that more people continue to take advantage of this rich opportunity.
In closing, I'd like to thank our devout and supportive parents, who have given us well formed and well behaved children to work with. Together, we will continue to educate your kids about their Faith and how to appropriately live it and defend it! Yes, there is still much work that has to be done and more tweaks to be made, but I believe it is important that we look at ourselves as a whole and see what our Community has accomplished in just 16 months!
FIRST COMMUNION
First Communion will be held on Sunday, May 1st. Classes continue after Holy Week on 4/3, 4/10, and 4/17. There will be a MANDATORY rehearsal after each Mass on 4/24.
WEBSITE
Please check out our website at www.skt-lmc.org. to see this and all previous notices as well as upcoming events.
DIVINE MERCY SUNDAY
Next Sunday after the Latin Mass, Divine Mercy devotions will take place: Adoration, sung Chaplet (in English) and Benediction (in Latin). If you have already received the Sacrament of Penance in Lent, that will suffice to receive the indulgence of Mercy Sunday. Next Sunday, our priest-confessor, Father Helfrich, will be available for the hearing of Confessions before Mass only.
CONGRATULATIONS to Sister Joseph Maria of the Trinity, O.C.D., daughter of Mr. and Mrs. Antonio Cabarcas of Miami, Florida. With Bishop Matano presiding, she made her Solemn Professions of Vows as a Discalced Carmelite Nun at the Carmel of Rochester on the Solemnity of St. Joseph, March 19. We pray for her steadfast fidelity in the consecrated religious life, and we hope that others will follow her in serving Our Lord and His Church in the hidden life of Carmel.
CONGRATULATIONS ALSO go out to Robert and Raquel on the BAPTISM of their son, Logan Joseph Hartman, taking place this afternoon (on Easter Sunday). Godparents are Gelado Santiago and Fina Santiago.
HELPING OUR LOCAL COMMUNITY
Each Sunday throughout the year, SKT-LMC collects donations for local food cupboards, for the purpose of alleviating hunger caused by poverty in our area. Donations may be placed in the green baskets in each of the church vestibules.
VOLUNTEERS

WE ARE ALWAYS IN NEED OF VOLUNTEERS to help maintain our facilities, especially in the area of church and parish center cleaning. We need YOU! Please email [email protected] or call 467-8747. Enough volunteers will enable us to have rotating teams.
PRAYING FOR THE SICK AND INFIRM
Happily, Judy Burns has come forward and volunteered to coordinate the SKT-LMC bulletin listing of sick and infirm members, relatives, and friends. The list will be there so that we might pray for them. Please note that NO health information will be printed in this bulletin. Judy will coordinate the names: long-term? short-term? when to take off list? etc. To put names on the list, contact Judy Burns at (cell) 585-738-5156 OR (e-mail) burnsie320 @yahoo.com.
PRAYER LIST
Angela DeLuca         Rita Cimino
Mary Sanders          Florian & Veronica Czerniak
Sharon Mooney         Jerry Snell
Jean Lloyd            Jeanne Bleier
Gregory W. Griswold   Bill Schlueter
Thomas Hubbell        Nancy Trudgen
Jim Holden

May the Divine Physician of our souls and bodies help and heal them, through His Divine Mercy.
DIOCESAN NOTICES
APRIL YEAR OF MERCY CELEBRATIONS AT THE CATHEDRAL
You are invited to attend a Year of Mercy First Friday Mass on April 1, 2016 at 6:30 p.m., at Sacred Heart Cathedral, 296 Flower City Park, Rochester. This First Friday Mass, which will be followed by Adoration of the Blessed Sacrament and individual Confessions until 8:00 p.m., is the fourth of a series of special Masses to be held every month during the Year of Mercy (Dec. 8, 2015-Nov. 20, 2016).
In addition, all are invited to attend the Sunday, April 3, 2016, Chaplet of the Divine Mercy at 3 p.m. at the Cathedral with Adoration of the Blessed Sacrament and opportunities for individual Confessions.
Pope Francis has declared that passing through the Holy Door of Mercy, located in our Diocese at the inside center entrance of the Cathedral, will offer the possibility of obtaining a Plenary Indulgence, a remission of the temporal punishment due to sins, by participating in the Sacraments of Confession and Holy Eucharist, praying for the Holy Father's personal intentions, and praying the Profession of Faith (the Creed).
DIOCESAN WEDDING JUBILEE MASS
The Most Reverend Salvatore R. Matano will preside at a Wedding Jubilee Mass to honor couples who have been married 25 years or more at Sacred Heart Cathedral in Rochester on Sunday May 22, 2016 at 2:00 PM. A reception to honor the attendees will follow the Mass . You do not need to register in order to attend.
If you would like your name and anniversary (25, 50 and above) to be included in the Marriage Anniversaries section of the Catholic Courier's June print edition, please send an email or a letter with the following information:
Names, Church and Town where you were married, wedding date/year
Email: [email protected]
Mail: Wedding Anniversaries
Catholic Courier
P.O. Box 24379
Rochester NY 14624-0379
WHEN YOU COME TO CHURCH, please turn OFF all cell phones, hand-held electronic devices, pagers, watch alarms, etc. ALSO, remember to dress appropriately (neatly and modestly). Unfortunately, in many churches today, people tend to "dress down" for Mass. How can this be??? RESPECT and REVERENCE toward God and neighbor (i.e. charity) should determine how we present ourselves in the House of God. Thank you, in advance, for your courtesy and cooperation.
THERE ARE (AT LEAST) THREE REASONS to maintain a prayerful, quiet atmosphere in the church proper before and after services: (1) RESPECT for the House of God, (2) REVERENCE for the Blessed Sacrament, and (3) REGARD for those who want to pray in peace. The guiding principle should be devotion NOT commotion. Please carry on your friendly conversations in the church vestibules (with inside doors closed), outside, or at the coffee hours. Reverence and friendliness can co-exist—in their proper settings!!
COFFEE HOURS
NO COFFEE HOURS are being hosted today. They will resume next week. Have a Blessed Easter Day!
Easter Flower Intentions
In memory of Ralph J. Adamo
In memory of members of the Donovan family
In memory of members of the Kellman family
In memory of Rev. Gerard McMahon
Requested by Mary K. Adamo
In memory of Joan Burns
Requested by Anonymous
For the deceased members of Holy Rosary Parish
Requested by Anonymous
For the homeless
Requested by Anonymous
For the living and the dead
Requested by the Asam family
For the deceased members of the Towsley &
Basile families
Requested by Mr. & Mrs. Jim Basile
For Angeline Barraclough-Tan
Requested by Claude & Kathy Beauchamp
For a non-Catholic family
Requested by Josiah Belokur
For a secret intention
Requested by Lillian Belokur
For Gertrude Bleier
Requested by Linda Bleier
In memory of Paul E. Yaeger, Sr. &
Paul E. Yaeger, Jr.
In memory of Msgr. Edward Buckley
In memory of Jane Buckley Carroll
Requested by the Buckley family
In memory of Paul E. Yaeger, Sr. &
Paul E. Yaeger, Jr.
Requested by Carol Burke
In memory of Mrs. Mary Alice Burke
In memory of Doyle & Pat Etter
In memory of Angela Anne Etter
Requested by Jim & Eileen Burke
In memory of Bob & Joan Burns
Requested by the Burns children
For the Campbell family
Requested by Philip Campbell
In memory of John Carroll, Jr.
Requested by Mrs. Shirley Carroll
In memory of Gail I. Cerquone
Requested by Peter Cerquone
For grace for our children and grandchildren
Requested by Stan & Caroline Chizuk
For my deceased relatives
Requested by Marie Davias
In honor of newly baptized David Francis O'Connor
In memory of Ezrow parents and siblings
For all Legionaries
Requested by Mr. & Mrs. Gerald Ezrow
In memory of Louise Faraci
In memory of Carmelo Faraci
Requested by Mr. & Ms. Angelo Faraci
For my family
Requested by Thomas Flanigen
For the intentions of the Holy Father
In memory of Nora Kellison
Requested by Matthew Gabello
In memory of Mark Gabello
In memory of Amelda & Charlie Schoad
In memory of Joseph & Loretta Gabello
In memory of Joseph Gabello, Jr.
In memory of Art & Shirley Hotte
Requested by Mr. & Mrs. Louis Gabello
In memory of Jack & Mary Galipeau
In memory of Astrid Smallenburg
Requested by Therese Galipeau
For parents
Requested by Bob & Mary Ellen Gilkinson
In memory of Evelyn Diehl
In memory of George Diehl
Requested by Mr. & Mrs. Christian Goetting
For the deceased members of the Gomes &
Piazza families
Requested by the Gomes family
In memory of Robert & Olga Gray
In memory of Bill & Helen Robertson
Requested by Mr. & Mrs. Robert Gray
In memory of Victor & Sam Rex
In memory of Jill Hathaway
Requested by Mr. & Mrs. Harry Griswold
In memory of Beverly Halecki
Requested by Peter Halecki
For deceased relatives and friends
Requested by Fr. Peter G. Helfrich
In memory of Mr. & Mrs. Jack Galipeau
In memory of Ms. Astrid Smallenburg
Requested by Mr. & Mrs. Mark Herrmann
For comfort and peace for Rita Cimino
Requested by Steve & Patty Imburgia
In memory of members of the Knebel family
In memory of members of the Smallenburg family
In honor of members of the Knebel &
Smallenburg families
Requested by Mr. & Mrs. Gerard Knebel
For Michael Andrew Love
Requested by Sara M. Love
For the soul of Christopher Massaro
Requested by Angelo & Kathleen Massaro
In memory of Mr. & Mrs. Rocky May
In memory of Sandy Temperato
Requested by Mr. & Mrs. William May
In memory of Robert Wiegand
In memory of Robert Lindsay
Requested by Mr. & Mrs. Patrick McKenna
In memory of members of the DiBiase, Donovan, McNulty, Michael & O'Shanecy families
Requested by Gene & Judy Michael
In memory of Thea Mishia
In memory of members of the Smallenburg family
In memory of members of the Mishia family
Requested by the Mishia family
For Sheila H.
For Dr. Ray Mulrooney
Requested by Joe & Caroline Mulrooney
In memory of members of the Murphy &
Laragy families
Requested by Mr. & Mrs. Donald Murphy
In memory of Dennis & Lena O'Connor
In memory of Tony & Natalie Jurus
Requested by Mr. & Mrs. Daniel O'Connor
In memory of Marion Olyer
Requested by Mr. & Mrs. Carlton Olyer
In memory of John Ozminkowski
In memory of Violet Wiegand
Requested by Mike Ozminkowski
In memory of Joan & Robert Burns
In honor of Judy Burns
Requested by Melissa Palumbo
In memory of Chester & Helen Podgorski
Requested by Mr. & Mrs. David Podgorski
In memory of Brandon Polito
Requested by Mr. & Mrs. Anthony Polito
For Mother Dorothy J. Schaller
Requested by Grace Rainaldi
In memory of Robert McDonald
In memory of Margaret Considine
In memory of Daniel Considine
In memory of Mary Seil
In memory of Kenneth Seil
Requested by Mr. & Mrs. Kenneth Roush
Alice M. & Edward J. Burkin and son John E. Burkin
Requested by the Seiffer family
For the repose of the soul of Lorraine A. Sneeringer
Requested by Richard J. Sneeringer
In memory of Msgr. Richard K. Burns
In memory of Rev. L. James Callan
In memory of Rev. James Collins
In memory of Rev. Robert Meng
In memory of Rev. Robert F. McNamara
Requested by St. Thomas the Apostle friends
In memory of Ralph Adamo
In memory of John Steele
Requested by Dr. Scott Steele & Dr. Joan Adamo
In memory of John P. Sullivan
In memory of John E. Rush
In memory of Msgr. Richard K. Burns
In memory of Alma Hall
In memory of Herb Mannella
Requested by Mr. & Mrs. Barry Sullivan
In memory of Janice LaPietra
Requested by the Vargas family
In memory of members of the Bleich &
Wazelle families
Requested by Arduinne Wazelle
William Wayne
Requested by Mary & Scott Whitcomb and family
For the victory of the pro-life cause
Requested by Julian & Andrea Woodruff
In memory of Providence Warren
In memory of Mary & Jack Galipeau
In memory of Astrid Smallenburg
Requested by Mr. & Mrs. Harold Wren
In memory of Jo Ann Yount
Requested by Bob Yount
In memory of Richard E. Zicari, husband & father
Requested by June & son Zev Zicari