———-Notices———-
March 20, 2016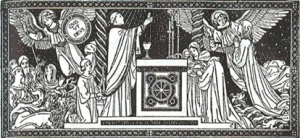 TODAY'S HOLY MASSES are offered for these intentions:
9:00 AM     For the living and deceased members of the Burns Family
11:15 AM   For Debra Follaco + (req. by Family)            
NEXT SUNDAY'S HOLY MASS INTENTIONS   (3/27/16):
9:00 AM For the people of the SKT-LMC Community (pro populo)  
11:15 AM For the people of the SKT-LMC Community (pro populo)                           
CANDLE INTENTIONS FOR WEEK OF 3/20
Tabernacle Lamp in Church In memory of Joseph DeLuca (req. by Buchholz Family)
REQUEST AND SCHEDULE MASS INTENTIONS
To request and schedule intentions for both of our Masses, please call 585-484-1810 or email to [email protected]. to reserve a date. The stipend check of $10 per Mass should be made payable to SAINT KATERI Parish (not SKT-LMC). Please use the Mass Intention envelopes located on the bulletin table at all entrances to the Church. Drop your envelope in the collection basket or mail it our Parish Center address. (not to St. Kateri Parish) at SKT-LMC @St. Thomas the Apostle Church, 4536 St. Paul Blvd. Rochester, NY 14617
VOTIVE SANCTUARY CANDLES
SANCTUARY CANDLES burn in the Lady Chapel (in the Church), and the Adoration Chapel (in the Parish Center). Would you like to have a dedicated candle burn in memory of a loved one OR for a special intention? To schedule a dedicated candle intention call (585) 388-7734. Donations for 7 day Church Tabernacle and Adoration Chapel lamps are $10.00 Donations for the 3 day hanging lamps in the Lady Chapel are $5.00. Envelopes for candle donations are available at all church entrances. Checks should be made payable to SKT-LMC.
FINANCIAL INFORMATION
RECORD OF GIVING
V SUNDAY OF LENT 
March 13, 2016
 
9:00 AM    Attendance: 166    Offerings:    $2,464.00
11:15 AM   Attendance: 171    Offerings:    $1,242.80
TOTAL                  337                  $3,706.80
 WEEKLY TARGET AMOUNT.......................$4,500.00
SECOND COLLECTION FOR EASTER FLOWERS
9:00 AM      $889.00  
11:15 AM     $415.00
TOTAL        $1304.00              

THANK YOU for your support. Thank you, in advance, for the 
generosity of your prayers for the SKT-LMC. May God bless our 
Community with true growth in the Holy Spirit and in Catholic 
fellowship.
HOW TO CONTRIBUTE
Checks should be made payable to "St. Kateri Tekakwitha-Latin Mass Community" OR for short, "SKT-LMC". If you receive your envelopes by mail, please use them. If not, contributions can be placed in the blue envelopes OR loose in the collection baskets. You also have the option of ON-LINE GIVING.  Access to On-Line giving is available through our website skt-lmc.org or through a smartphone or tablet app. Instructions for giving are located on our website or in pamphlets available at all church entrances.
You may also sign up for automatic withdrawals with or without covering the small fee for transaction processing.
ENVELOPE MAILINGS FOR REGISTERED MEMBERS
If you have not received your envelopes for March/April by now, please contact Eileen Burke at 266-7287 or email to [email protected]. Enrollment deadline for the May/June envelopes has now closed. Next enrollment deadline for July/August envelopes is 5/15/16.

FAITH FORMATION
Our Faith Formation team is looking for volunteers in a variety of ways. Please email Andy at [email protected] if you are interested:
-Confirmation Prep: Teach our Confirmandi during our regular Sunday schedule to prepare for the Sacrament. Some curriculum development will take place over the summer.
-Long Term Sub in our K-2 class: Linda Blaier will be out for an undetermined amount of time in the coming weeks. This appointment is time sensitive, so if you could consider sharing your Sundays with us, please respond ASAP. Both Andy and Linda will be able to direct you in terms of content to cover.
-Apologetics Course: We would like to gauge the Community on the desire for a high school course to begin next year. We would like it to focus on apologetics (explaining and defending the Faith in a rational and reasonable manner). If you think your high schooler could benefit from such instruction, OR if you would be interested in teaching this class, please email Andy this week to express your interest. If there is enough interest from the Community Andy will officially set it up. Look to the bulletin for future announcements regarding our progress.
-Volunteers: If any Confirmandi (or other High School age students) are willing to volunteer (Andy can sign off for Service Hours for your school!) at the Pot Luck next Sunday, please email Andy this week. They will be assigned to help babysit in the toddler room or help Mrs. Gabello in the craft room.
FIRST COMMUNION
First Communion will be held on Sunday, May 1st. Classes begin on TODAY in between masses. They will resume after Holy Week on 4/3, 4/10, and 4/17. There will be a MANDATORY rehearsal after each Mass on 4/24.
WEBSITE
Please check out our website at www.skt-lmc.org. to see this and all previous notices as well as upcoming events.
HOLY WEEK 2016
Holy Week services on Holy Thursday, Good Friday, or Holy Saturday will not be possible here at St. Thomas. You are encouraged to participate with other Catholic parishes and communities.
STATIONS OF THE CROSS
THE STATIONS OF THE CROSS will NOT be held on Good Friday evening.
DIVINE MERCY SUNDAY
MERCY SUNDAY DEVOTIONS will be held here on the Sunday after Easter, April 3, following upon the Latin Mass: Adoration, the sung Chaplet and Benediction. In connection with the Mercy devotion of that day, the Sacrament of Penance may be received during Lent, before April 3. The Divine Mercy Novena begins on Good Friday, this week. There is Divine Mercy devotional literature available on the large table in the south vestibule—for your use.
CONGRATULATIONS to the Maurer family upon the BAPTISM of John Joseph Maurer last Sunday. Little John is the son of John and Katie. Godparents were Andrew and Marielle Follaco.
HELPING OUR LOCAL COMMUNITY

Each Sunday throughout the year, SKT-LMC collects donations for local food cupboards. During Lent, let's make an extra effort and use our Lenten sacrifice to alleviate hunger caused by poverty and improve the lives of individuals and families in our community. Donations may be placed in the green baskets at each of the entrances.
VOLUNTEERS
WE ARE ALWAYS IN NEED OF VOLUNTEERS to help maintain our facilities, especially in the area of church and parish center cleaning. We need YOU! Please email [email protected] or call 467-8747. Enough volunteers will enable us to have rotating teams.
EASTER EGG HUNT
The Knights of Columbus: Monsignor Burns Council #11749 will sponsor an Easter Egg Hunt on the church grounds on Holy Saturday, March 26, 2016.  All families are welcome to attend.  There will be refreshments available.  Please support this event with other families from our Community.  Call Christian Goetting at  585-880-0521 with any questions.

PRAYING FOR THE SICK AND INFIRM
Happily, Judy Burns has come forward and volunteered to coordinate the SKT-LMC bulletin listing of sick and infirm members, relatives, and friends. The list will be there so that we might pray for them. Please note that NO health information will be printed in this bulletin. Judy will coordinate the names: long-term? short-term? when to take off list? etc. To put names on the list, contact Judy Burns at (cell) 585-738-5156 OR (e-mail) burnsie320 @yahoo.com.
PRAYER LIST
Angela DeLuca, Rita Cimino, Mary Sanders, Florian & Veronica Czerniak,
 Sharon Mooney, Steve and Patty Imburgia, Jean Lloyd, Jeanne Bleier, 
Gregory W. Griswold, Bill Schlueter,Thomas Hubbell, Nancy Trudgen, 
Jim Holden
May the Divine Physician of our souls and bodies help and heal them, through His Divine Mercy.
WHEN PRAYING FOR OUR DEPARTED, please remember the soul of Theodore Marr, the father of Trina Weeg. Requiescat in pace.
LENTEN OBSERVANCE

Abstinence from meat: Those who have completed their 14th birthday are obliged to abstain from meat on Ash Wednesday and on ALL the Fridays of Lent.
Fasting: Those between the ages of 18 and 59 (inclusive) are also obliged
to fast on Ash Wednesday and Good Friday. In fasting, one is permitted to eat a single full meal and two other small meals which, when added together, do not equal a full meal and no eating between meals.
Other acts of penance are encouraged according to one's health and generosity with God. The classic Lenten penitential formula is PRAYER, FASTING, and ALMSGIVING (i.e. works of charity and mercy).
DIOCESAN NOTICES
APRIL YEAR OF MERCY CELEBRATIONS AT THE CATHEDRAL
You are invited to attend a Year of Mercy First Friday Mass on April 1, 2016 at 6:30 p.m., at Sacred Heart Cathedral, 296 Flower City Park, Rochester. This First Friday Mass, which will be followed by Adoration of the Blessed Sacrament and individual Confessions until 8:00 p.m., is the fourth of a series of special Masses to be held every month during the Year of Mercy (Dec. 8, 2015-Nov. 20, 2016).
In addition, all are invited to attend the Sunday, April 3, 2016, Chaplet of the Divine Mercy at 3 p.m. at the Cathedral with Adoration of the Blessed Sacrament and opportunities for individual Confessions.
Pope Francis has declared that passing through the Holy Door of Mercy, located in our Diocese at the inside center entrance of the Cathedral, will offer the possibility of obtaining a Plenary Indulgence, a remission of the temporal punishment due to sins, by participating in the Sacraments of Confession and Holy Eucharist, praying for the Holy Father's personal intentions, and praying the Profession of Faith (the Creed).
Bishop Matano's 2016 Holy Week / Triduum Schedule
Palm Sunday:   March 20, Saint Leo the Great, Hilton, at 9:30 a.m.
Chrism Mass:   March 22, Cathedral of the Sacred Heart, Rochester, at 7:00 p.m.
Holy Thursday: March 24, Saint James Church, Blessed Trinity Parish, Waverly, at 5:30 p.m.
Good Friday:   March 25, Cathedral of the Sacred Heart, Rochester, at 3:00 p.m.
Holy Saturday: March 26, Blessing of the Easter Baskets, Saint Stanislaus, Rochester, at 1:00 p.m.
Easter Vigil:  March 26, Saint Agnes Church, Avon, at 8:00 p.m.
Easter Sunday: March 27, Holy Angels Church, Saint Luke the Evangelist Parish, Nunda, at 8:15 a.m.
COFFEE HOURS
There will be no separate coffee hours today, March 20th. Instead, there will be a Pot luck luncheon at 12:45PM for both Mass groups. Short devotional film will be shown around 2 PM, on "The Miracles of the Eucharist" Come on over! There will be no coffee hours on Easter Sunday, March 27. Regular coffee hours will resume on Sunday, April 3 after each Mass.
WHEN YOU COME TO CHURCH, please turn OFF all cell phones, hand-held electronic devices, pagers, watch alarms, etc. ALSO, remember to dress appropriately (neatly and modestly). Unfortunately, in many churches today, people tend to "dress down" for Mass. How can this be??? RESPECT and REVERENCE toward God and neighbor (i.e. charity) should determine how we present ourselves in the House of God. Thank you, in advance, for your courtesy and cooperation.
THERE ARE (AT LEAST) THREE REASONS to maintain a prayerful, quiet atmosphere in the church proper before and after services: (1) RESPECT for the House of God, (2) REVERENCE for the Blessed Sacrament, and (3) REGARD for those who want to pray in peace. The guiding principle should be devotion NOT commotion. Please carry on your friendly conversations in the church vestibules (with inside doors closed), outside, or at the coffee hours. Reverence and friendliness can co-exist—in their proper settings!!