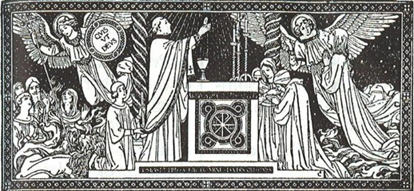 TODAY'S HOLY MASSES are offered for these intentions:
9:00 AM     For Joseph Perrotta +
(req. by children)
11:15 AM   For Janice LaPietra +
(req. by the Vargas Family)
NEXT SUNDAY'S HOLY MASS INTENTIONS   (3/6/16):
9:00 AM     For Arlene and Eugene Buchholz +
(req. by Janet & David Buchholz & Family)
11:15 AM   For Marilyn Mount +
(req. by daughter, Jen Brannin)
REQUEST AND SCHEDULE MASS INTENTIONS
To request and schedule intentions for both of our Masses, please call 585-484-1810 or email to [email protected]. to reserve a date. The stipend check of $10 per Mass should be made payable to SAINT KATERI Parish (not SKT-LMC). Please use the Mass Intention envelopes located on the bulletin table at all entrances to the Church. Drop your envelope in the collection basket or mail it our Parish Center address. (not to St. Kateri Parish) at SKT-LMC @St. Thomas the Apostle Church, 4536 St. Paul Blvd. Rochester, NY 14617
VOTIVE SANCTUARY CANDLES
VOTIVE SANCTUARY CANDLES burn in the Lady Chapel (in the Church), and the Adoration Chapel (in the Parish Center). Would you like to have a dedicated candle burn in memory of a loved one OR for a special intention? To schedule a dedicated candle intention call (585) 388-7734. Donations for 7 day Church Tabernacle and Adoration Chapel lamps are $10.00 Donations for the 3 day hanging lamps in the Lady Chapel are $5.00. Envelopes for candle donations are available at all church entrances. Checks should be made payable to SKT-LMC.
Tabernacle Lamp in Church
Week of 2/28
In memory of Eugene and Arlene Buchholz
(req. by David, Janet and Buchholz Family)
FINANCIAL INFORMATION
 SECOND SUNDAY OF LENT
February 21, 2016
 9:00 AM   Attendance: 193  Offerings:  $2,254.59
11:15 AM   Attendance: 133  Offerings:  $1,555.27
--------------------------------------------------
           TOTAL       326             $ 3,809.86
           WEEKLY TARGET AMOUNT        $ 4,500.00
THANK YOU for your continual generosity to the SKT-LMC. Our prayers should always accompany our offerings.
HOW TO CONTRIBUTE
Checks should be made payable to "St. Kateri Tekakwitha-Latin Mass Community" OR for short, "SKT-LMC". If you receive your envelopes by mail, please use them. If not, contributions can be placed in the blue envelopes OR loose in the collection baskets. You also have the option of ON-LINE GIVING.  Access to On-Line giving is available through our website skt-lmc.org or through a smartphone or tablet app. Instructions for giving are located on our website or in pamphlets available at all church entrances.
UPDATE. You may also sign up for automatic withdrawals with or without covering the small fee for transaction processing.
SECOND COLLECTION NEXT SUNDAY

There will be a Second Collection next Sunday for Catholic Relief Services, a reputable charitable organization endorsed by the U.S. Bishops. Checks should be made payable to St. Kateri Parish, because the parish handles second collection funds for us. Funds are forwarded to the Diocese which, in turn, forwards the donations to the CRS organization. This collection is a golden opportunity to fulfill one of the classic practices of Lent: ALMSGIVING (i.e.works of charity and mercy).
ENVELOPE MAILINGS FOR REGISTERED MEMBERS
 If you have not received your envelopes for March/April by now, please contact Eileen Burke at 266-7287 or email to [email protected].
VOLUNTEERS
 WE DO NEED VOLUNTEERS to help maintain our facilities, especially in the area of church and parish center cleaning. We need YOU! Please email [email protected] or call 467-8747. Enough volunteers will enable us to have rotating teams.
FAITH FORMATION
 FAITH FORMATION UPDATE. The following students will have their First Penance on Saturday March 5th at 10AM. If you see them please congratulate them. As always, your prayers for them are always appreciated.
John Hayes
Augustine Valentini
Amelia Caruso
John-Paul Wren
Josiah Belokur
Steven Clinkscales
Jaelyn Clinkscales
Thomas Flanigen
Khadeeja Reed
Henry Welling
FIRST COMMUNION CLASSES will begin on Sunday 3/13 from 10:10 to 11:05 in the Parish Center with Mrs. Follaco. Other classes will take place on 4/3, 4/10, and 4/17. There will be a MANDATORY rehearsal on 4/24 after each Mass. First Communion itself will be celebrated on 5/1 at each Mass.
PRAYING FOR THE SICK AND INFIRM
 Happily, Judy Burns has come forward and volunteered to coordinate the SKT-LMC bulletin listing of sick and infirm members, relatives, and friends. The list will be there so that we might pray for them. Please note that NO health information will be printed in this bulletin. Judy will coordinate the names: long-term? short-term? when to take off list? etc. To put names on the list, contact Judy Burns at (cell) 585-738-5156 OR (e-mail) burnsie320 @yahoo.com.
PRAYER LIST
Angela DeLuca    Rita Cimino
Susan Lewis      Florian Czerniak
Sharon Mooney    Steve and Patty Imburgia
Jean Lloyd       Jeanne Bleier
Kathy Murphy     Eugene Montagne
Thomas Hubbell   Bill Schlueter
Jim Holden       Veronica Czerniak
Ron & Grace Culiano

May the Divine Physician of our souls and bodies help and heal them, through His Divine Mercy.
WEBSITE
Please check out our website at www.skt-lmc.org. Special thanks to Ben Anderson, Jason Herforth, and Jonathan Lane. Email address: [email protected]. If you have any suggestions to add, contact [email protected].
DIOCESAN NOTICES
Diocesan Day of Penance
The Diocesan Day of Penance this year is scheduled for Wednesday, March 9, from 12:30 to 7:30 PM. Many churches will be OPEN with priest-confessors available to hear confessions during those hours. Future notices will give details about how this will be implemented here at St. Thomas. Do you have QUESTIONS ABOUT THE SACRAMENT OF PENANCE (CONFESSION)? Go to http://forgiven.dor.org and click on "Commonly Asked Questions" to get the answers!
FIRST FRIDAY ON MARCH 4
You are invited to attend a Year of Mercy First Friday Mass celebrated by The Most Reverend Salvatore R. Matano on March 4, 2016 at 6:30 p.m., Sacred Heart Cathedral, 296 Flower City Park, Rochester. Meditation as the homily:"Wherever the Church is present, the mercy of the Father is present."This First Friday Mass, which will be followed by Adoration of the Blessed Sacrament and individual Confessions until 8:00 p.m., is the third of a series of special Masses to be held every month during the Year of Mercy (Dec. 8, 2015-Nov. 20, 2016). Pope Francis has declared that passing through the Holy Door of Mercy, located in our Diocese at the inside center entrance of the Cathedral, will offer the possibility of obtaining a Plenary Indulgence, a remission of the temporal punishment due to sins, by participating in the Sacraments of Confession and Holy Eucharist, praying for the Holy Father's personal intentions, and praying the Profession of Faith (the Creed).
For more information and a complete schedule of the special Masses at the Cathedral, visit www.dor.org
Bishop Matano's 2016 Holy Week/Triduum Schedule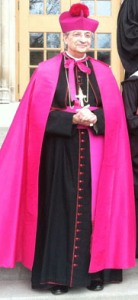 Palm Sunday:      March 20, Saint Leo the Great, Hilton, at 9:30 a.m.
Chrism Mass:      March 22, Cathedral of the Sacred Heart, Rochester, at 7:00 p.m.
Holy Thursday:   March 24, Saint James Church,  Blessed Trinity Parish, Waverly, at 5:30 p.m.
Good Friday:       March 25, Cathedral of the Sacred Heart, Rochester, at 3:00 p.m.
Holy Saturday:   March 26, Blessing of the Easter Baskets, Saint Stanislaus, Rochester, at 1:00 p.m.
Easter Vigil:         March 26, Saint Agnes Church, Avon, at 8:00 p.m.
Easter Sunday:    March 27, Holy Angels Church, Saint Luke the Evangelist Parish, Nunda, at 8:15 a.m.

WHEN YOU COME TO CHURCH, please turn OFF all cell phones, hand-held electronic devices, pagers, watch alarms, etc. ALSO, remember to dress appropriately (neatly and modestly). Unfortunately, in many churches today, people tend to "dress down" for Mass. How can this be??? RESPECT and REVERENCE toward God and neighbor (i.e. charity) should determine how we present ourselves in the House of God. Thank you, in advance, for your courtesy and cooperation.

STATIONS OF THE CROSS
 THE STATIONS OF THE CROSS will be prayed on the Fridays of Lent at 7:30PM in the Church, followed by Benediction of the Blessed Sacrament. (Note: Stations will NOT be held on Good Friday evening.)
LENTEN OBSERVANCE
Abstinence from meat: Those who have completed their 14th birthday are obliged to abstain from meat on Ash Wednesday and on ALL the Fridays of Lent.
Fasting: Those between the ages of 18 and 59 (inclusive) are also obliged
to fast on Ash Wednesday and Good Friday. In fasting, one is permitted to eat a single full meal and two other small meals which, when added together, do not equal a full meal and no eating between meals.
Other acts of penance are encouraged according to one's health and generosity with God. The classic Lenten penitential formula is PRAYER, FASTING, and ALMSGIVING (i.e. works of charity and mercy).
 HELPING OUR LOCAL COMMUNITY
Each Sunday throughout the year, SKT-LMC collects donations for local food cupboards. During Lent, let's make an extra effort and use our Lenten sacrifice to alleviate hunger caused by poverty and improve the lives of individuals and families in our community. Donations may be placed in the green baskets at each of the entrances.
NEXT SUNDAY is the Fourth Sunday of Lent traditionally called Laetare Sunday, a joyful mid-season day in the midst of the penitential and sorrowful Lenten time. To signal the joyful aspect of this mid-Lenten moment, rose vestments are worn, flowers may be used, and the organ may be played apart from singing. The 9 AM will be a CHOIR MASS and the 11:15 AM will be a HIGH MASS. Please consider inviting someone to come along with you for this special Sunday.
FOURTH SUNDAY SCRIPTURE STUDY will be held TODAY in the Parish Center (upstairs conference room) about 15-20 minutes after the 11:15 Mass is over.
BAPTISM TODAY taking place at 1PM.
Fulton Nicolas Lane, infant son of Jonathan and Luciana, will receive into his soul the sanctifying grace of God and will be received into the Household of Faith, the Mystical Body of Christ, the One, Holy, Catholic, and Apostolic Church. Congratulations and blessings to him and his family!
COFFEE HOURS
COFFEE HOURS TODAY will be hosted after BOTH MASSES. Thanks to the courtesy and effort of our volunteers!
———-SPECIAL NOTICES———–
 ARCHANGEL SCHOOL OPEN HOUSE. Archangel School will be holding an Open House on Thursday, March 3rd from 6:00 – 8:00 p.m. Located at 2400 Chili Avenue in the Town of Gates, Archangel School offers a non-Common Core, authentically Catholic education for students in grades PreK-12. For more information call 247-1112 or visit www.archangelschool.com.
SKT-LMC CONTACTS
Chaplain

Father Dennis Bonsignore

585-244-8692

Director of Music

John Morabito

724-777-4701

Faith Formation

Andrew Follaco

585-750-1553

Finance

Ken Roush

585-727-3430

Facilities

Christian Goetting

585-880-0521

Evangelization Committee

Gene Michael

585-266-5842

Mass Intentions

Kathy Beauchamp

585-484-1810

Votive Candles

Mary Ellen Gilkinson

585-388-7734

Ushers

David Armitage

585-797-4889

Volunteers / Lectors

Denise Flanigen

585-467-8747

Church Flowers

Ginny Maurer

585-368-8869