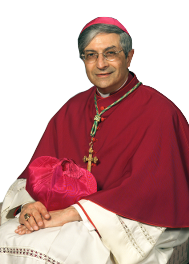 The Most Reverend Salvatore R. Matano
Ninth Bishop of Rochester
Bishop Matano was named Prelate of Honor by His Holiness, Pope John Paul II in 1985, and received recognition from the Holy Father again in 1993 when he was named Prothonotary Apostolic.
His Holiness Pope Francis appointed Bishop Matano as the Bishop Designate of Rochester on Nov. 6, 2013. He was installed as the Ninth Bishop of Rochester at a Mass at Sacred Heart Cathedral in Rochester on the afternoon of Friday, January 3, 2014.
We would encourage you to learn more about his excellency through his biography available on the Diocese of Rochester's website.

An excerpt from a letter from His Excellency regarding the Mass at St Thomas the Apostle:
The celebration of Holy Mass in the extraordinary form has been made available to the faithful of the Diocese of Rochester on a regular basis following the Apostolic Letter of Pope John Paul II, given as a "Motu Proprio", on July 2, 1988.  This Mass has been celebrated on Sunday afternoon at Saint Stanislaus Kostka Church in Rochester.  Saint Stanislaus parishioners have very graciously welcomed those attending the extraodinary form of the Mass and for this I am most grateful to Father Roman Caly, the Pastor, and the entire faith community at Saint Stanislaus.
However, since those attending Mass in the extraordinary form has remained a significant, enduring number of persons, consideration has been given to scheduling the Mass at a more opportune time on Sunday mornings.  Saint Thomas the Apostle Church in Irondequoit, New York, a member church of Saint Kateri Tekakwitha Parish, under the pastoral supervision of Father Paul F. English, C.S.B., was recognized as being able to accommodate the celebration of Mass in the extraordinary form on Sunday mornings at 11:15 AM.  In addition, Holy Mass also will be offered at 9:00 AM in the ordinary form of the Mass and the extraordinary form of the Mass
To read the Bishop's entire letter click here.
---
---
Consider joining us for the Holy Sacrifice of the Mass.
4536 St Paul Blvd
Rochester, NY
On the corner of St Paul Blvd. and Colebrook Dr. in Irondequoit
Please feel free to Contact Us if you have any questions.
Individual contacts can also be found here.
---
Tithe.ly is now availble. Press  to enter your offering.
Thank you for your generous contribution.